BLACK FRIDAY:
50% OFF + FREE Carrying Case (Worth $49)
Don't just take our word for it.

Here's a quick breakdown.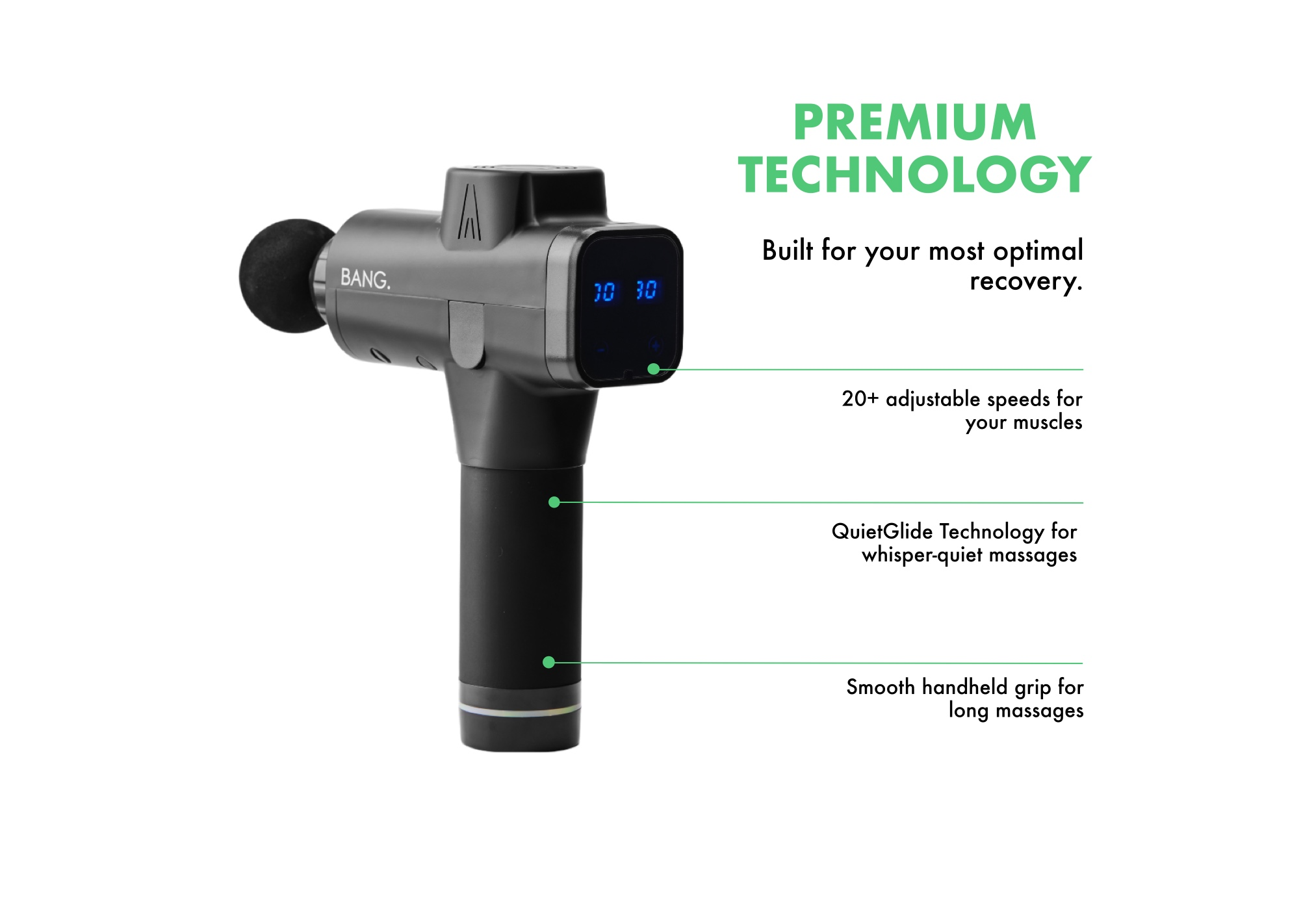 Try BANG out for yourself. If your soreness doesn't improve, we'll refund you. Seriously.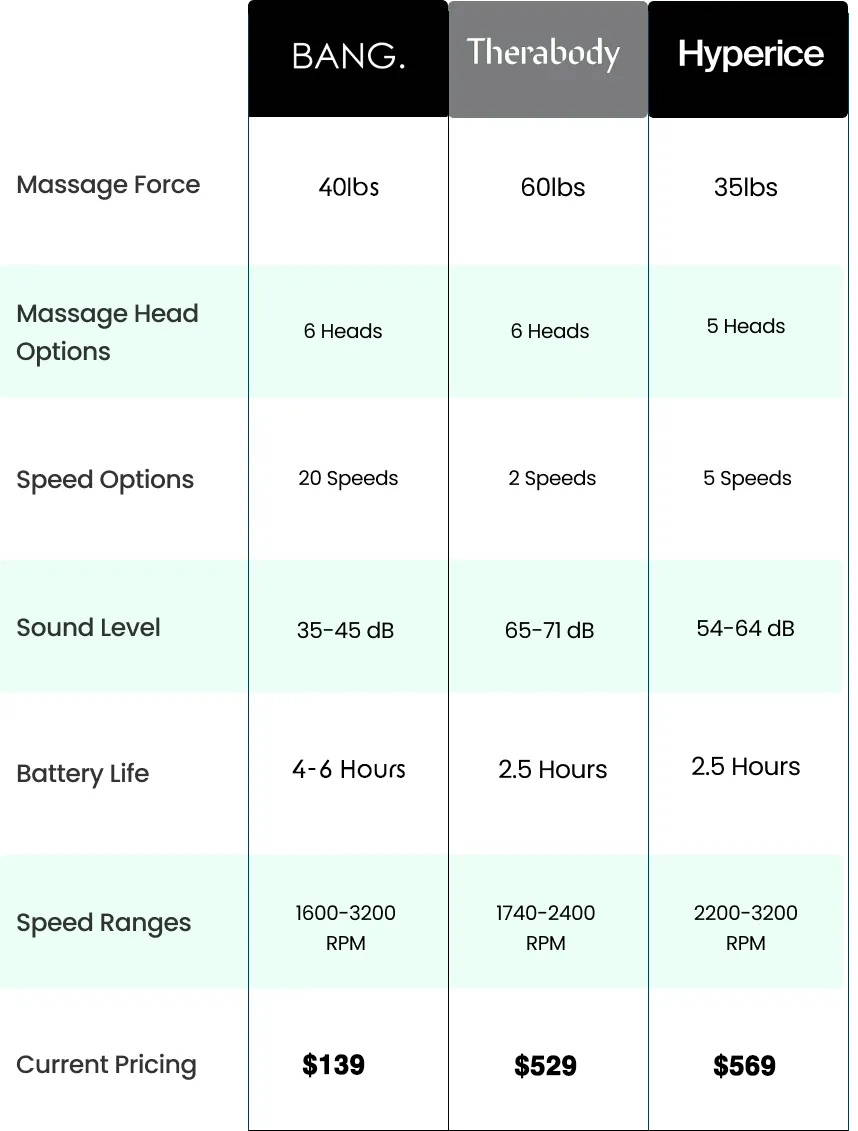 Find Your Perfect Massage Gun
Compare the two models of Bang Massage Guns
‣ Light to moderately-active individuals
‣ Beginner to intermediate gym-goers
‣ Recreational athletes


‣ Very active individuals
‣ Intermediate to advanced gym-goers
‣ Organized or professional athletes
‣ Health & fitness professionals
Your massage gun questions, answered.
What are the key features & technical specs of the BANG Massage Gun?
Key features include:
- Proprietary brushless motor with QuietGlide Technology
- LED touchscreen for fine-tune speed adjustment

- 12mm Medium Stroke Length ensures real percussion, and not just a "vibration"
- 20 Levels of customizable speed range (1600-3200 percussions per minute)
- Battery life indicator
- Delivers up to 40 lbs of no-stall force
- Internal lithium-ion battery

- BANG ergonomic rubberized handle design
Included with purchase:
- Water resistant carrying case

- 6 attachments
- Power adapter
- User guide
What is percussive therapy?
Percussive therapy increases blood flow and decreases tension deep within the muscle, using a scientifically-calibrated combination of speed and depth to treat your muscles comfortably by overriding the pain signals sent to the brain.

Percussive therapy works because the massage gun offers a unique combination of these three things:


1. Amplitude (depth): Our 12mm amplitude allows our BANG massage gun to treat deep within the muscle to release tension.

2. Frequency (speed): Our 3200 percussion per minute (53 per second) speed allows our devices to override the pain signals to your brain, making the treatment experience more comfortable than manual muscle therapy.

3. Torque (no-stall force): Our devices can withstand up to an additional 40 pounds of applied pressure—without stalling—so you can most effectively treat the areas that need it.
Percussive therapy targets treatment areas by reaching deep enough into the muscle to increase the amount of blood flow and oxygen needed for efficient treatment and recovery.
When will my BANG massage gun ship?
Once your order is placed, if your item is in stock, we ship it out from our Brampton, Ontario warehouse the same day if ordered before 12pm EST. Otherwise, it will ship within 1 business day. We ship by Canada Post and UPS.
You will receive an email with your tracking number once processed, usually within 24 hours of placing your order.

Canada Post/UPS transit times:
ON, QC: 1 - 2 days

MB, SK, AB: 3 - 4 days

West Coast & Maritimes: 3 - 5 days

You will receive an email with your tracking number once processed, usually within 24 hours of placing your order.
What is the battery life?
6 hours

Unlike other massage gun batteries that only last a couple hours, BANG massage gun was created with a premium quality and unrivaled 1500mah high capacity lithium-ion battery that lasts up to 6 hours on a single charge.
Many customers have said that they only need to charge their BANG once a month, maybe twice.
There is a battery life indicator on the LED touch panel, so you'll know how much power you have left before needing your next charge.
What is the return policy?
Once you receive your BANG massage gun, you have 100 days to try it out.
BANG uses deep tissue pressure stimulation to help your muscles relax. However, it can take some time for your body to completely adjust to your new percussive massage therapy regimen.
We recommend that you ease into it by using it a few minutes at a time before using it for an extended period post-workout.
We highly recommend you incorporate it into your physical activity routine for at least a week to give your muscles a chance to adjust. If for any reason you are not satisfied with the item, ship it back to us and we'll refund you 100% of your purchase price.

Click here to initiate a refund/exchange.