| | | | |
| --- | --- | --- | --- |
| | | | |
| Free Shipping | Same-Day Dispatch | 100 Day Guarantee | Easy Returns |
What is Percussion Therapy?
Percussion therapy boosts muscle function and recovery by penetrating deep into the muscle tissue with a series of rapid, concentrated pulsating strokes.

Gain back control of your body and achieve long-term pain relief with this Canadian massage gun.
Shop Black Friday Deals ↓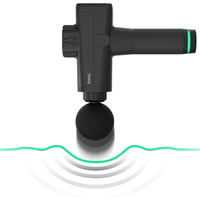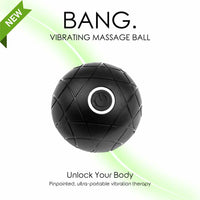 BANG Massage Ball
Unlock your body with deep, targeted vibration therapy. Activate the muscles and fascia in your legs, calves, hips, back and more.
SHOP BALL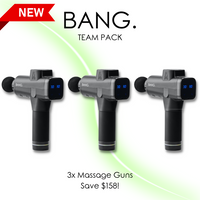 NEW: 3x Team Pack (Save $158)
Shopping for your teammates, friends or family?
Get the Bang Team Pack and share the relief!
Shop Team Pack
Discover the Benefits of Bang Massage Gun
| | |
| --- | --- |
| | |
| Faster Recovery | Increase Blood Flow |
| Speed up your recovery time with a deep tissue massage always at your fingertips. | The high speed vibrations of Bang increase blood flow to targeted areas. |
| | |
| Break Up Scar Tissue | Release Knots |
| Painlessly break up scar tissue, restoring your body back to peak performance. | Releases knots from repetitive stress, poor posture & overworking. |
| | |
| Improve Range of Motion | Enhance Performance |
| Alleviates muscle tension, decreasing stiffness & increases range of motion. | Achieve your athletic goals with this clutch, therapeutic massager. |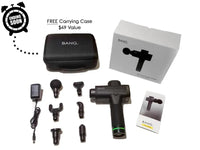 What's included
• BANG Massage Gun
• FREE Protective Carrying Case
• 6 Attachments 
        • Ball
        • Spade
        • Fork
        • Thumb
        • Flat
        • Precision
• Rechargeable Lithium-ion Battery
• Lithium-ion Battery Charger
• User Guide
SHOP BLACK FRIDAY NOW
Professional Grade Power
BANG puts the power of professional grade treatment in the hands of everybody. From advanced ergonomics to continuous battery life, every feature of this Canadian massage gun is designed with the performance and convenience of professionals in mind.
SHOP BLACK FRIDAY NOW
FAST & EFFECTIVE FULL-BODY MASSAGE TREATMENT FOR DEEP TISSUE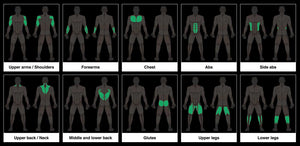 People ♥ BANG.
Increases blood flow, decreases lactic acid and interupts the pain cycle in the brain. Way more effective than my Theragun.

Ray DeSousa, Physiotherapist
BANG is my must-have workout accessory. Keeps me going longer & stronger.

Lisa Desimone, Goodlife Fitness Instructor
It's like having a really good massage therapist on call, available 24hrs a day.

Patrick Kitchin, Crossfit Athlete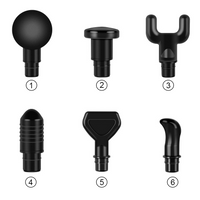 Includes 6 Easy-to-Clean Attachments
1. Standard Ball
Perfect for use on large & small muscle groups.
Impact Level: 5/10
2. Flat
For trigger points and the lower back.
Impact Level: 6/10
3. Fork
Glides perfectly along your  trapezoid muscles starting from the upper neck area to your shoulders.
Impact Level: 7/10
4. Precision
Focus on tight spots. Works beautifully for muscle knot removals.
Impact Level: 8/10
5. Spade
Glides perfectly along your trapezoid muscles starting from the upper neck area to your shoulders.
Impact Level: 9/10
6. Thumb
Pinpoint muscle treatment, trigger points, and small muscle areas like the hands and feet.
Impact Level: 10/10
SHOP NOW
Our money back guarantee
Once you receive your massager, you have 100 days to try it out.  If you're not satisfied for any reason, ship it back to us and we'll refund 100% of your purchase price.
100 day guarantee